1500mm ONBOARD UNDERMOUNT RANGEHOOD – TRIPLE MOTOR
Are you looking for a rangehood that offers the strongest extraction on the market? Sirius has got you covered with their triple onboard undermount rangehood. This powerful, high-performance model is equipped with a green energy triple motor and 25mm baffle filters for optimal air flow to keep your kitchen environment clean. It also features an impressive 2600m3/h to ensure your kitchen is free from any lingering odours. 
FEATURES & BENEFITS
Green Energy Twin Motor
25mm Stainless Steel Filters
2600M3/H Airflow
Induction Safe
Dynamic Lighting
Handcrafted in Italy
Slimline Installation
4 Speed settings
Product Specifications
Filter
25mm stainless steel baffle
Dynamic Lighting
Adjustable and dimmable lighting
Induction Countdown Control
W1480 x D364
3 years (6 years when Sirius ducting is used)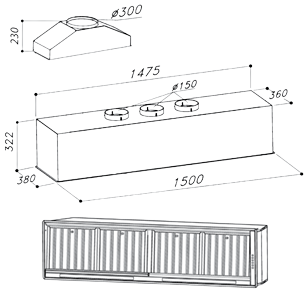 Features & Benefits
Green Energy Twin Motor
The most important element in the performance of your hood is the motor. Sirius has worked in-house with expert suppliers to provide a green energy motor that still provides the correct power and pressure with excellent flow levels and sound insulation.
25mm Stainless Steel Filters
Sirius Baffle filters are particularly well-regarded for their advanced design; they feature interlocking baffles that form a tortuous route which is highly effective at trapping oil, grease, and other contaminants. Constructed from 304 grade stainless steel, these commercial-style filters are robust, durable, and easy to clean. Plus, they can be placed in the dishwasher for an effortless sanitization process.
2600M3/H Airflow
With a triple motor this rangehood's impressive maximum airflow of 2600M3/H, quickly and effectively removes smoke, steam, heat, odours, and other airborne particles from the kitchen. Not only does this rangehood boast great performance, but it also features a comprehensive four-fan speed control, allowing users to customize the operation of their hood according to their cooking needs.
Induction Safe
Induction technology uses the base of the pan or pot to become the heat source for cooking. When using an induction cooktop, very little ambient heat is produced compared to gas. This means that little of the moisture and steam from cooking is evaporated and so hits the cold filters of the rangehood. This can pool and drip down if the unit doesn't have sufficient extraction and baffle filters.
Dynamic Lighting
This rangehood has Dynamic Lighting System meaning you can adjust the kelvin light temperature or warmth to match other lighting temperatures in the room. The range of Kelvin that can be selected is 2700 to 6500. Sirius Rangehoods have a maximum temperature that is 40% brighter. Dynamic Lighting also allows you to dim the light to create the perfect mood lighting.
Handcrafted in Italy
Sirius Rangehoods is a luxury brand of rangehoods that are hand-crafted in Italy. Established in 1996 in Sassoferrato, Sirius has established itself as a leading manufacturer of top end rangehoods due to its bold, innovative designs and its commitment to using only the finest materials and craftsmanship.
Slimline Installation
The slim-line installation of this rangehood makes it the perfect fit for any minimalistic kitchen with cabinetry. With its strong air extraction performance and modern design, the Sirius Undermount Rangehood is ideal for those looking to have a more luxurious kitchen setup without compromising on functionality or style.
4 Speed settings
Sirius Rangehoods offers a variety of powerful features, including four different speed settings that allow you to customize the ventilation power for your cooking needs.