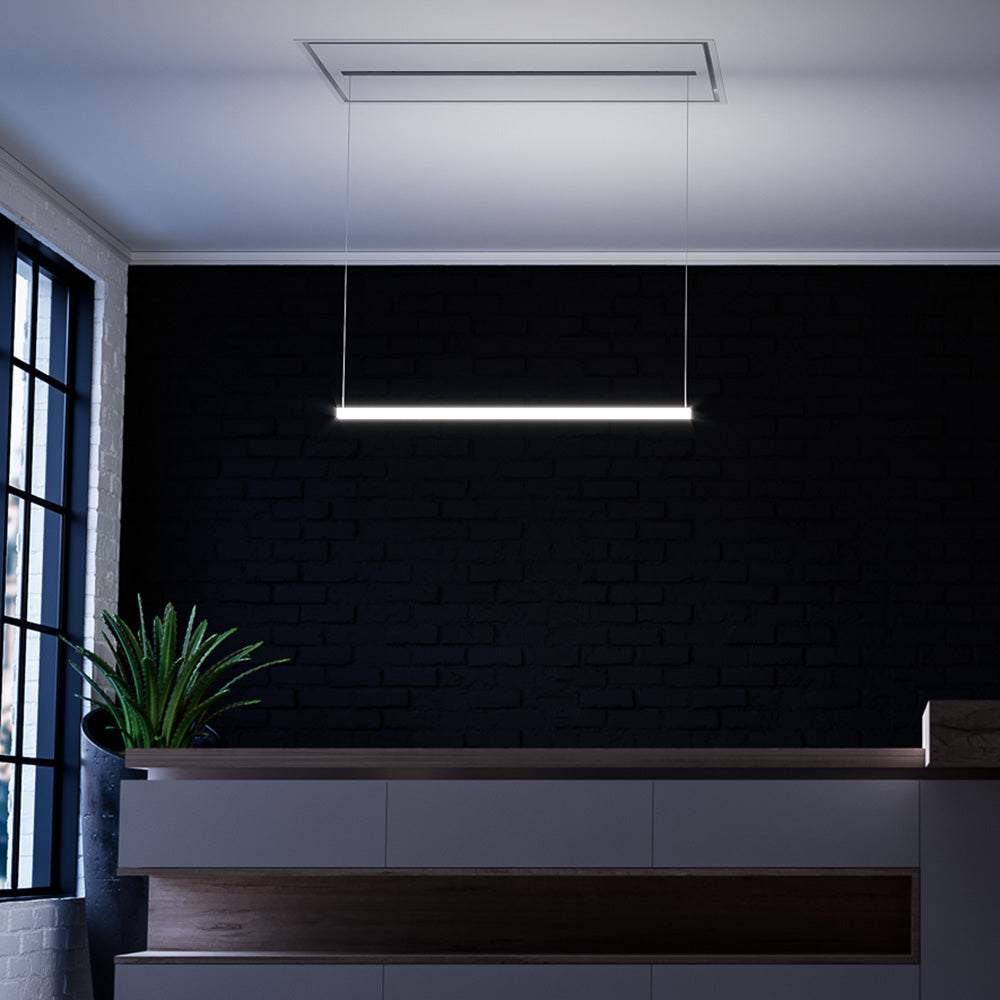 930mm 'The Line' Ceiling Cassette
Introducing The Line, Handcrafted in Italy, this luxury rangehood is outfitted with state-of-the-art features such as voice control through Google and Amazon. The sleek and modern design also includes dynamic lighting, allowing you to customize your kitchen to match any style. With a quiet offboard operation and excellant air circulation, The Line is the perfect choice for those who demand more from their kitchen rangehoods. Enjoy the convenience of voice control with Google or Amazon Alexa giving you easy access to adjust fan speed, turn lights on/off, set timer functions, and more.
FEATURES & BENEFITS
Offboard Green Energy Motor
Aluminium Filter
Powerful Airflow
Induction Safe
Dynamic Lighting
Voice control
Remote control
Handcrafted in Italy
Product Specifications
Rangehood type
Ceiling cassette with pendant light
Lighting
Dynamic adjustable lighting
Induction Countdown Control
Warranty
3 years (6 years when Sirius ducting is used)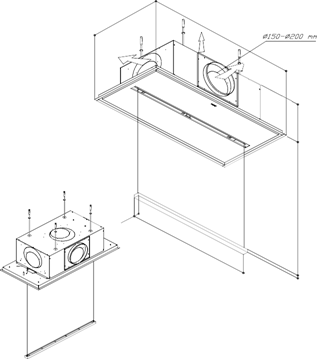 Features & Benefits
Offboard Green Energy Motor
The most important element in the performance of your hood is the motor. Sirius has worked with expert producers to provide a green energy motor that still provides the exceptional power and pressure with excellent flow levels and but with additional sound reduction.
Aluminium Filter
Not only is the aluminium filter easy to install and maintain, but it also provides superior filtration capabilities. The filter is designed with a special deep pleat design that helps capture grease, smoke, and other cooking odours before they enter the room. The aluminium filter is also dishwasher safe for easy cleaning and can be easily removed from the hood when needed.
Powerful Airflow
Sirius is renowned for its powerful range of rangehoods, designed to provide superior extraction for all types of cooking. With their revolutionary technology and advanced engineering, Sirius rangehoods are the perfect choice for any kitchen.
Induction Safe
Induction technology uses the base of the pan or pot to become the heat source for cooking. When using an induction cooktop, very little ambient heat is produced compared to gas. This means that little of the moisture and steam from cooking is evaporated and so hits the cold filters of the rangehood. This can pool and drip down if the unit doesn't have sufficient extraction and baffle filters.
Dynamic Lighting
This rangehood has Dynamic Lighting System meaning you can adjust the kelvin light temperature or warmth to match other lighting temperatures in the room. The range of Kelvin that can be selected is 2700 to 6500. Sirius Rangehoods have a maximum temperature that is 40% brighter. Dynamic Lighting also allows you to dim the light to create the perfect mood lighting.
Voice control
Voice Control with Sirius is a new way to interact with technology. It enables users to control their rangehood through voice commands. By using natural language processing, Google Assistant and Amazon Alexa can understand users' intent and accurately respond to their requests.
Remote control
This Sirius Rangehood is equipped with a sophisticated, stylish remote control that offers users the convenience of operating the hood from a distance. The remote control has been designed to be simple and intuitive to use, while still providing access to advanced features. It allows you to easily adjust fan speed, lighting and timer settings.
Handcrafted in Italy
Sirius Rangehoods is a luxury brand of rangehoods that are hand-crafted in Italy. Established in 1996 in Sassoferrato, Sirius has established itself as a leading manufacturer of top end rangehoods due to its bold, innovative designs and its commitment to using only the finest materials and craftsmanship.