900mm Flush Mount Ceiling Cassette
The white glass finish, powerful 1020m3/h extraction system and a quiet offboard operation this rangehood is a perfect island solution. Handcrafted in italy, this rangehood features four speed settings, two LED lights, Aliuminium filters and remote controlled. With all its features combined, this Sirius ceiling cassette rangehood is surely a must-have item for any modern home!
FEATURES & BENEFITS
Offboard European Made Motor
Aluminium Filter
Powerful Airflow
Induction Safe
2 x Led Light Strips
4 Speed Settings
Remote control
Handcrafted in Italy
Product Specifications
Motor*
SEM1, SEM2XS316 SEM5XS316
Induction Countdown Control
Warranty
3 years (6 years when Sirius ducting is used)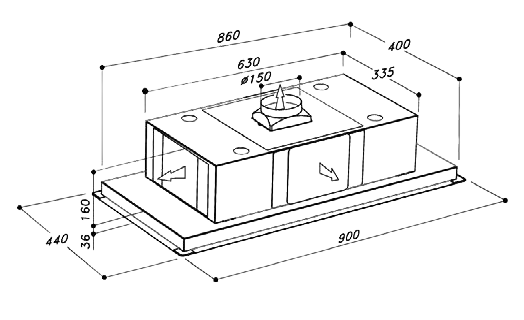 Features & Benefits
Offboard European Made Motor
Sirius has devised a simple yet effective way of providing a well-ventilated kitchen without the unpleasant noise. We call it the Sirius External Motor (SEM), where is the motor is located outside of the rangehood which reduces the amount of noise. Sirius are so confident in their motors that they offer customers peace of mind with their extensive 10-year warranty - so you can be assured of optimal performance for years to come.
Aluminium Filter
Not only is the aluminium filter easy to install and maintain, but it also provides superior filtration capabilities. The filter is designed with a special deep pleat design that helps capture grease, smoke, and other cooking odours before they enter the room. The aluminium filter is also dishwasher safe for easy cleaning and can be easily removed from the hood when needed.
Powerful Airflow
Sirius is renowned for its powerful range of rangehoods, designed to provide superior extraction for all types of cooking. With their revolutionary technology and advanced engineering, Sirius rangehoods are the perfect choice for any kitchen.
Induction Safe
Induction technology uses the base of the pan or pot to become the heat source for cooking. When using an induction cooktop, very little ambient heat is produced compared to gas. This means that little of the moisture and steam from cooking is evaporated and so hits the cold filters of the rangehood. This can pool and drip down if the unit doesn't have sufficient extraction and baffle filters.
2 x Led Light Strips
LED lights emit less heat than traditional lighting, meaning they require less energy to operate. They also have a much longer lifespan, which reduces the need for frequent bulb replacements and the associated costs. This makes them an excellent choice for anyone looking to make their home more environmentally friendly while still getting excellent lighting quality.
4 Speed Settings
Sirius Rangehoods offer a variety of powerful features, including four different speed settings that allow you to customize the ventilation power for your cooking needs.
Remote control
This Sirius Rangehood is equipped with a sophisticated, stylish remote control that offers users the convenience of operating the hood from a distance. The remote control has been designed to be simple and intuitive to use, while still providing access to advanced features. It allows you to easily adjust fan speed, lighting and timer settings.
Handcrafted in Italy
Sirius Rangehoods is a luxury brand of rangehoods that are hand-crafted in Italy. Established in 1996 in Sassoferrato, Sirius has established itself as a leading manufacturer of top end rangehoods due to its bold, innovative designs and its commitment to using only the finest materials and craftsmanship.