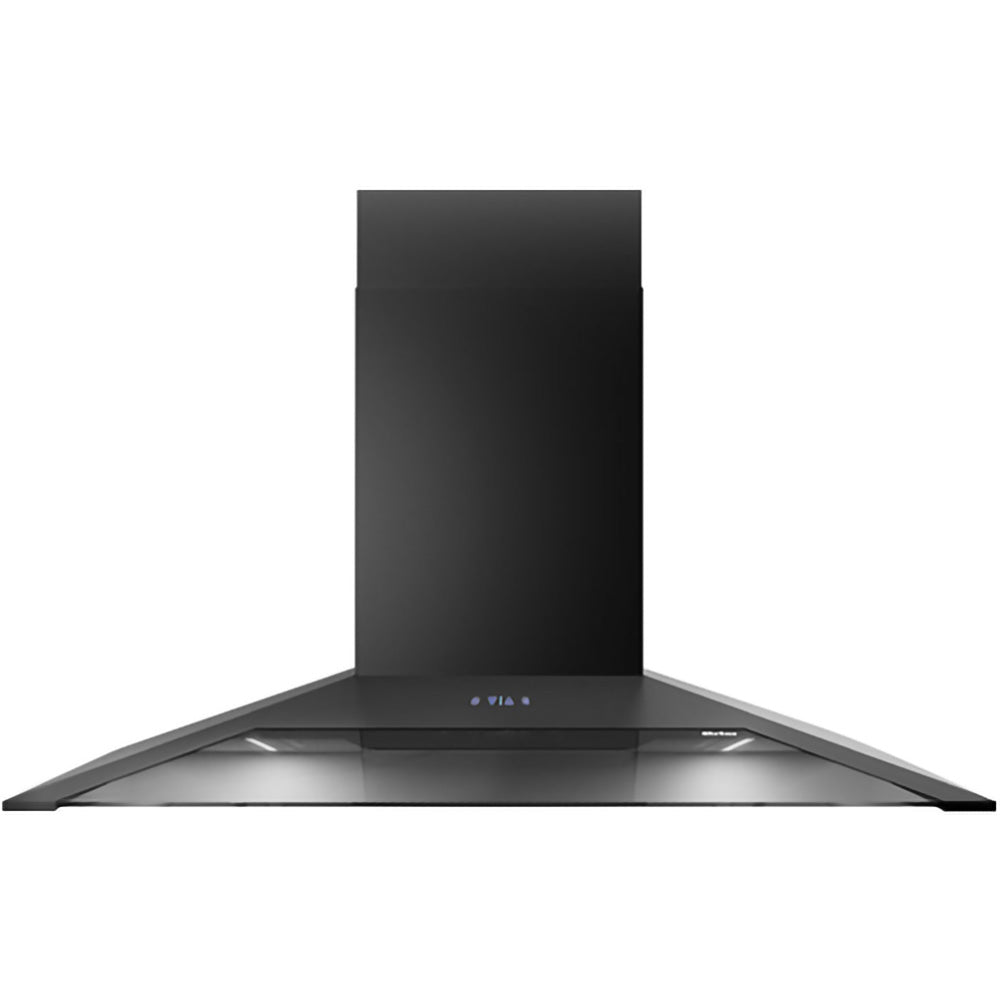 90cm Canopy Range Hood with Off Board Motor in Black (Carton Damage)
Sale price
$1,799.00
Regular price
$2,249.00
The product is brand new condition with all accessories included. The packaging will carry some minor defects or imperfections which prevent it from being sold as brand new stock. It is backed by the full manufacturer's warranty of 3 years (+3 with Sirius Ducting), providing peace of mind and value for money. 
Modern in design with glass transparency and the matt black painting confer the product a delicate elegance. This offboard canopy rangehood is a handcrafted Italian rangehood with 10mm baffle filters, 1020m3/h airflow and LED lighting. Not only does this rangehood provide air purification but it also improves the ambience of your kitchen with its contemporary design. This range hood is designed to accommodate all kitchen layouts, styles, and tastes while delivering reliable results. Sirius Canopy Rangehood makes sure you receive the best value from your investment in terms of quality, durability and style.

FEATURES & BENEFITS
Offboard European Made Motor
10mm Baffle Filters
1200M3/H Airflow
Induction Safe
2 x 6W Led Lighting
Handcrafted in Italy
Product Specifications
Motor*
SEM1/SEM11, SEM2XS316
/SEM21, SEM5XS316 / SEM51
Filter
10mm stainless steel baffle
Induction Countdown Control
Warranty
3 years (6 years when Sirius ducting is used)
Features & Benefits
Offboard European Made Motor
Sirius has devised a simple yet effective way of providing a well-ventilated kitchen without the unpleasant noise. We call it the Sirius External Motor (SEM), where is the motor is located outside of the rangehood which reduces the amount of noise. Sirius are so confident in their motors that they offer customers peace of mind with their extensive 10-year warranty - so you can be assured of optimal performance for years to come.
10mm Baffle Filters
Sirius Baffle filters are particularly well-regarded for their advanced design; they feature interlocking baffles that form a tortuous route which is highly effective at trapping oil, grease, and other contaminants. Constructed from 304 grade stainless steel, these commercial-style filters are robust, durable, and easy to clean. Plus, they can be placed in the dishwasher for an effortless sanitization process.
1200M3/H Airflow
With an impressive maximum airflow of 1200M3/H, this rangehood quickly and effectively removes smoke, steam, heat, odours, and other airborne particles from the kitchen. Not only does this rangehood boast great performance, but it also features a comprehensive four-fan speed control, allowing users to customize the operation of their hood according to their cooking needs.
Induction Safe
Induction technology uses the base of the pan or pot to become the heat source for cooking. When using an induction cooktop, very little ambient heat is produced compared to gas. This means that little of the moisture and steam from cooking is evaporated and so hits the cold filters of the rangehood. This can pool and drip down if the unit doesn't have sufficient extraction and baffle filters.
2 x 6W Led Lighting
LED lights emit less heat than traditional lighting, meaning they require less energy to operate. They also have a much longer lifespan, which reduces the need for frequent bulb replacements and the associated costs. This makes them an excellent choice for anyone looking to make their home more environmentally friendly while still getting excellent lighting quality.
Handcrafted in Italy
Sirius Rangehoods is a luxury brand of rangehoods that are hand-crafted in Italy. Established in 1996 in Sassoferrato, Sirius has established itself as a leading manufacturer of top end rangehoods due to its bold, innovative designs and its commitment to using only the finest materials and craftsmanship.